To contact Steve Burt about doing a program or speaking on a panel, or if you need personalized copies of his books, phone him at 352-391-8293 (credit cards accepted), email him at passtev@aol.com, or write him at 17101 SE 94th Berrien Court, The Villages, FL 32162.
---
FLORIDA BOOK FESTIVAL NAMES FREEK WEEK ITS GRAND PRIZE WINNER
ORLANDO-December 29, 2014 A tale of five psychic teens who traverse Florida to solve a mystery is the grand prize winner of the 2015 Florida Book Festival. Freek Week by Steve Burt continues a series about psychic and paranormal teens that has won 20 international awards. The latest book's fast pace and well-crafted story line won over the competition judges and are a fine addition to this popular young adult series. Burt and other authors and publishers from the competition will be honored at a private reception in January. (The book was also winner in the Young Adult Fiction category and will be available on audio at the end of March.)

December 31, 2014 NEW ENGLAND BOOK FESTIVAL NAMES FREEK WEEK ITS YOUNG ADULT FICTION WINNER


August 2014 MOM'S CHOICE AWARDS BESTOWS GOLD MEDAL FOR YOUNG ADULT FICTION ON FREEK WEEK, fourth gold for the series.


---
Welcome
Steve Burt's readers say they love his characters and fascinating story lines. Many say things like, "In the space of a couple of hours I laugh, cry, bite my nails, cringe, and wonder what I'd do in this situation." Or "I wish I could levitate like Atlanta or travel out-of-body like Harley." They finish a
FreeKs
novel and want to know where the next one is. "Can you put me on your email list and let me know before it comes out?" Others say, "I loved Melissa Epp's audio version of
FreeK Camp
, but where's the movie?" The answer: Steve's writing books as fast as he can. He has no control over Hollywood.
Dark fiction writer Steve Burt is actually the Reverend Doctor Steve Burt, a retired small-church pastor
Connecticut Magazine
profiled as
The Sinister Minister
in a 2009 article. He was successful in the 1980s and 90s with his church leadership books and inspirational story collections (
A Christmas Dozen
was such a hit that stories were excerpted for
Chicken Soup for the Soul
and
Family Circle Magazine
). But then he suddenly switched to writing the stuff he himself had loved as a teen: ghost stories, weird tales, and mystery/suspense novels.
And he found he was good at it. After seven short stories were named honorable mentions in
Year's Best Fantasy & Horror
anthologies, he published the collection
Odd Lot: Stories to Chill the Heart,
which won several prizes including the
Benjamin Franklin Award silver
for mystery/suspense. So he published a sequel,
Even Odder
--15 weird tales he dictated out of thin air while walking his dog each day then transcribed and edited. It became one of the five nominees for the
2003 Bram Stoker Award for young readers
(eventually won by
Harry Potter
). In 2004 he published
Oddest Yet,
which became a 2005 Stoker nominee that tied Clive Barker
to win
the coveted
Bram Stoker Award
. He released
Wicked Odd
shortly after that and received the honorable mention for the
2005 Ippy Award
. Some of the 39 stories in the series were excerpted in 2014 to produce a print and ebook collection suitable for a creepy audio book,
Wicked Strange,
read by Michael Piotrasch. Some of the Stories to Chill the Heart stories were also used to create a fun textbook that Steve wrote with his retired-teacher/wife Jolyn Joslin,
Horrors! Ghost Stories and Weird Tales to Help Kids Read, Learn, and Write Their Own Stuff (print and ebook, with Michael Piotrasch doing the audio book). Each of the 13 stories are followed by discussion and comprehension questions and a writing prompt, with answers in the back of the book.
In 2010 Steve turned from writing short stories to writing novels, producing
FreeK Camp: Psychic Teens in a Paranormal Thriller
, which won 12 international awards in 2010 including the
Mom's Choice
, the
Moonbeam Children's Book Award silver
, and a slew of book festival awards. He followed that with
FreeK Show
(2012), which earned 8 awards including the
Halloween Book Festival Best Teen
and another
Mom's Choice gold
. "Other than the Bram Stoker Award, the Mom's Choice golds have been the most important to me," Steve said recently. "They're like the Good Housekeeping Seal of Approval for value-driven, family-friendly literature. Because my stories require the characters to make good decisions, share resources, and work together to solve problems, the Mom's Choice endorsement means a lot."
FreeK Week
came out late in 2014 and immediately won a
Mom's Choice gold
. Then on December 29 it won the
Florida Book Festival Award for Young Adult Fiction
and was named the Festival's
Grand Prize Winner
.
FreeK Camp
and
FreeK Show
are now available as downloadable audio books on Amazon, Audible, and iTunes, read by actress Melissa Epp, with
FreeK Week
due in February 2015.
And let's not forget everybody's inspirational favorite,
A Christmas Dozen: Christmas Stories to Warm the Heart
, which won its share of awards, too. It's in print, ebook, and audio book (read by the author) on Amazon, Audible, and iTunes. Here's the link to the Christmas audio book, which has a free sample story you can click just below the cover image.
http://www.amazon.com/Christmas-Dozen-Storyteller-Heart-Book/dp/B00MX5I6PG/ref=pd_rhf_dp_p_img_7
Steve Burt and his editor/collaborator/wife Jolyn live in The Villages, Florida.

Thirteen of Steve's most popular radio read-aloud stories have been excerpted from the 39-story Stories to Chill the Heart series (Odd Lot, Even Odder, Oddest Yet, and Wicked Odd) to create Wicked Strange. Stories include John Flynn's Banshee (a prowling hearse from beyond shows up in your neighborhood), Night Train to Plantation 13 (a Maine backwater where the men birth the babies through their eye sockets), The Mason's Leech (don't pet that diseased dog, it's been in that concrete wall fifty years), The Strand (this will ruin your Maine clamming), Lighthouse Moths (what are those giant things caught in the lighthouse beacon?), Garden Plot (stay away from the witchy woman of Bethel, Vermont), Power of the Pen (words have power, evil power when it comes to sibling rivalry), The Cave (so many butterflies I can't breathe), The Tattooist (two hoods share a cursed tattoo), Caretaker (at a Maine felons' bone yard), Croaker (summer camp and the swimming float--noooo!), The Ice Fisherman (the dead of WWII await), and Captain James' Bones (Halloween prank = epic fail). $9.95 in paperback from Steve or Amazon has print, ebook, and audio book read by Michael Piotrasch. Audio also available on Audible.com and iTunes. http://www.amazon.com/Wicked-Strange-Steve-Burt-ebook/dp/B00NY2JWRI/ref=la_B001K8PYSY_1_4?s=books&ie=UTF8&qid=1414623913&sr=1-4
---
Horrors! Ghost Stories & Weird Tales to Help Kids Read, Learn, and Write Their Own Stuff, by Steve Burt with Jolyn Joslin. This collection is not only fun reading but serves as a textbook and writing primer. If there's one thing kids this age love to read about and then write about, it's ghosts and other weird stuff. Here's a way teachers, parents, and grandparents can turn them loose, let them unleash those creative imaginations. Combines 13 of Steve's best stories for this age group with middle-school teacher Jolyn's comprehension and discussion questions plus 13 stimulating story-writing prompts. This is also a terrific tool for teachers who need a 15-25 minute fill-in activity; just read a story aloud and ask the questions. (Answers in the back of the book.) Creates lively discussions. Paperback is $9.95 from Steve plus $5 shipping. Or get the paperback or Kindle ebook from Amazon. Audio book read Michael Piotrasch available on Amazon, Audible.com, or iTunes.
http://www.amazon.com/Horrors-Ghost-Stories-Weird-Tales/dp/1500879487/ref=pd_rhf_dp_p_img_4
---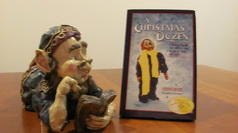 A Christmas DozenChristmas Stories to Warm the Heart
Enjoy the spirit of Christmas any time with this award-winning bestseller!
contains 12 of Steve's best-known stories from radio and television.
For years Steve has presented his moving holiday stories in live performances at more than 1,000 churches, senior centers, and civic groups. Millions more have heard them on radio stations across the country. The heartwarming tales have appeared in the Chicken Soup for the Soul books, Family Circle magazine, and other publications. Available in hardcover ($17.95) or as a $5.95 downloadable audio book read by the author (Audible.com, Amazon.com, iTunes). You can listen to a free 5-minute sample story, "Perfect Just Perfect," simply by clicking the button under the audio book's cover image on Amazon. http://www.amazon.com/Christmas-Dozen-Storyteller-Heart-Book/dp/B00MX5I6PG/ref=sr_1_16?s=books&ie=UTF8&qid=1408666808&sr=1-16&keywords=Steve+Burt Note: Steve still does the programs in central Florida and radio programs nationally by phone. Call to schedule. See program dates on his Calendar page. If you need autographed and/or personalized copies of the hardcover, contact Steve.
Winner of the New England Book Festival Award,Writer's Digest Self-Published Book Award, Foreword Book Award.
*Note: Churches can purchase the hardcovers by the case of 34 for 50% off then resell them at retail for fundraisers. Here is a link to hear Steve's AM Ocala Radio interview and a Christmas story ("Pastor Cheese's Christmas Eve Communion") from the book. https://www.youtube.com/watch?v=MlGx67Ekhi8
---