ABOUT THE AUTHOR
STEVE BURT first appeared on readers' radar in 2002 when his collection of weird tales, Odd Lot, won a Benjamin Franklin Award for Mystery/Suspense. Then in 2003 his Even Odder collection became one of five finalists for the Bram Stoker Award, horror's top prize (eventually won by Harry Potter). A year later Oddest Yet was nominated for the Stoker in a field of four finalists that included Dean Koontz and Clive Barker. Steve was asleep in Connecticut when his agent phoned at 2 a.m. from the awards ceremony in Hollywood to report that, in an unprecedented tie in the Young Readers category, he and Clive Barker would each win the Bram Stoker Award. In 2005 the fourth book in the Stories to Chill the Heart series won an Ippy Award. WCAX evening news in Burlington, Vermont and Connecticut Magazine nicknamed him the
Sinister Minister
. (An ordained Methodist and United Church of Christ pastor and professor, the Rev. Dr. Burt had become the only ordained minister to ever win the Bram Stoker Award.)
Steve decided to make the leap from short stories to novels, and in 2010 published FreeK Camp, a thriller about kidnapped psychic and paranormal teens. It won 12 international awards including two Mom's Choice golds, the Moonbeam Children's Book Award, and the teen awards at the London, Paris, NY, San Francisco, and New England Book Festivals. It was also named Beach Book of the Year. In 2012 he brought out a sequel, FreeK Show, and promptly won a Mom's Choice gold and 7 other awards, including the Halloween Book Festival Award. Now he's produced FreeK Week (2014), which readers say is the best yet in the series. All three FreeKs book are available as print books, ebooks, and in fall 2014 as audio books.
Also in print, ebook, and audio book are his inspirational bestseller, A Christmas Dozen: Christmas Stories to Warm the Heart, and a 13-story "best-of-the Chill-the-Heart" collection, Wicked Strange (audio book in Sept 2014). Here's the link to the Christmas audio book, which has a free sample story you can click just below the cover image.
http://www.amazon.com/Christmas-Dozen-Storyteller-Heart-Book/dp/B00MX5I6PG/ref=pd_rhf_dp_p_img_7
Yet another book, this one for younger readers, is due in September. It is a writer/teacher collaboration between Steve and
Jolyn and is titled Horrors! Ghost Stories and Weird Tales that Help Kids Read, Learn, and Write Their Own Stuff.
Steve and his editor/wife Jolyn enjoy the full-time writing life in The Villages, Florida.
The FreeKs series
FreeK Camp, FreeK Show, FreeK Week
20 international awards
psychic and paranormal teen detectives
Coming as audio books Fall 2014!


FREEK CAMP An Adventure That's Out of This World. And in It.
Free Camp, which somehow became known as FreeK Camp, is for special kids. But just how special most people will never know. Two vans are on their way to the camp in rustic New England, their passengers just starting to get acquainted. One van makes it. The other mysteriously disappears. Now each group of kids must bond together to discover and use their paranormal and psychic powers. The lives of one group literally depend on it. Part mystery thriller, part detective story, part sci-fi, FreeK Camp is all hold-your-breath-I-didn't-see-that-coming adventure.
Winner of 12 international awards including 2 Mom's Choice golds, a Moonbeam Children's Book Award silver, and the London, Paris, NY, New England, San Francisco, and Hollywood Book Festival Awards

FREEK SHOW When This Camp's in Session, It's Not Just Fun and Games. Sometimes It's Murder.
The FreeKs are back so, naturally, trouble's not far behind. Several of the kids have returned--a year older and more adept with their paranormal skills. There's also a hot new guy, Damon. When he sees Atlanta, with her streaked hair and body piercings, you don't have to be psychic to feel the electricity. Just as the group gathers, a body is discovered under bizarre circumstances. It looks like suicide, but when the ghosts from last year show up with a strange ethereal companion, the FreeKs and their adult mentors have to conclude it's a murder. And they're being drawn into it. It's out of the frying pain into the fire when the murderer targets two at FreeK Camp for abduction and murder. But why these two? As the victims are taken, new talents and an assist from an unexpected ally all come into play. But the sun is coming up and time is running out.
Winner of 8 international awards including a Mom's Choice gold, the Halloween Book Festival Award for Best Teen Fiction, and the NY, Paris, and London Book Festival Awards

FREEK WEEK Spring Break in Florida Is a Blast--For the FreeKs It's a Killer.
Five of the psychic teens are going to Florida over spring break. They can stay with fellow FreeK Caroline and their mentors Bando, Rose, and Twait. But somebody wants them to stay home and will use fire, rattlesnakes, and more to keep them away. As they prepare to leave New England, Charlie has one of his dreams—a murder and kidnapping—only it's happening in real time in the Sunshine State. The dead man is a midget who worked with Twait, Bando, and Rose in their sideshow days. And that's just the first murder. The trail will take the FreeKs from Cassadaga (psychic medium capital of the world) to Gibsonton (Freaktown USA, America's Weirdest Town)—with side trips to The Villages (Florida's Friendliest Hometown unless somebody's out to kill you) and Ocala (Horse Capital of the World)—and finally to the capital, Tallahassee. What the teens will remember about FreeK Week won't be their visit to Daytona Beach or the airboat ride in the gator swamps—it'll be sharing their gifts, working together, and fighting to survive.

$16.95 each, $29.95 for two, $44.95 for all three. Add $5 shipping per shipment. Florida residents add 7% sales tax. (Ebooks on Amazon. Audio books this fall on Audible.com, Amazon.com, and iTunes)
---
Stories to Chill the Heart series
39 Creepers for Classrooms, Campfires, and Car Trips

Four award-winning short story collections give readers a total of 39 ghost stories and weird tales reminiscent of The Twilight Zone. Series includes Odd Lot (Benjamin Franklin Award for mystery/suspense), Even Odder (Bram Stoker Award Nominee), Oddest Yet (Bram Stoker Award Winner), and Wicked Odd (Ippy Award Finalist). Fabulous pen-and-ink covers and illustrations by Jessica Hagerman, children's art therapist at Shriner's Children's Hospital.
For ages 12-99. Individual books are $9.95 plus $5 shipping. $29.95 for set of four plus $5 shipping. Florida residents add 7% sales tax. (Amazon has ebooks.)

---

Summer 2014 update:
Thirteen of Steve's most popular radio read-aloud stories from the 39-story Stories to Chill the Heart series (Odd Lot, Even Odder, Oddest Yet, and Wicked Odd) have been excerpted to create Wicked Strange, available now as an Amazon print-on-demand book, as a Kindle ebook, and in September as a downloadable audio book (through Audible.com, Amazon.com, iTunes). This is Steve's first attempt at doing his own cover design. How do you like it?

Stories include John Flynn's Banshee (a prowling hearse from beyond in your neighborhood), Night Train to Plantation 13 (a Maine backwater where the men birth the babies through their eye sockets), The Mason's Leech (don't pet that diseased dog, it's been in that concrete wall fifty years), The Strand (this will ruin your Maine clamming), Lighthouse Moths (what are those giants things caught in the lighthouse's beacon?), Garden Plot (stay away from the witchy woman of Bethel, Vermont), Power of the Pen (words have power, evil power when it comes to sibling rivalry), The Cave (so many butterflies I can't breathe), The Tattooist (two pals share a tattoo), Caretaker (at an Augusta, Maine felons' bone yard), Croaker (summer camp and the swimming float--noooo!), The Ice Fisherman (the dead of WWII await), and Captain James' Bones (Halloween prank fail). Print, ebook, audio book.
---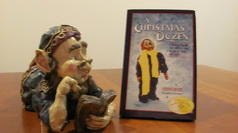 A Christmas DozenChristmas Stories to Warm the Heart
Enjoy the spirit of Christmas any time with this award-winning bestseller!
contains 12 of Steve's best-known stories from radio and television.
For 10 years Steve presented his moving holiday stories in live performances before nearly 1,000 churches, senior centers, and civic groups. Millions more heard them on hundreds of radio and TV stations across the country. The heartwarming tales have also appeared in the Chicken Soup for the Soul books, Family Circle magazine, and other publications. Available as a downloadable audio book read by the author (Audible.com, Amazon.com, iTunes). Sample story ("Perfect Just Perfect") you can hear by clicking the button under the cover image on Amazon. Here's the Amazon link: http://www.amazon.com/Christmas-Dozen-Storyteller-Heart-Book/dp/B00MX5I6PG/ref=sr_1_16?s=books&ie=UTF8&qid=1408666808&sr=1-16&keywords=Steve+Burt Note: Steve still does the programs in central Florida. Call to schedule.
Winner of the New England Book Festival Award,Writer's Digest Self-Published Book Award, Foreword Book Award. $17.95 hardcover. Florida residents add 7% sales tax. $5 shipping. (Also as Amazon Kindle ebook.)
*Churches can purchase these at 50% off per case of 34 to resell at 100% retail as fundraisers. Here is a link to hear Steve's interview and a Christmas story ("Pastor Cheese's Christmas Eve Communion") from the book. https://www.youtube.com/watch?v=MlGx67Ekhi8
---