Steve's Latest Releases
FreeK Camp & FreeK Show
Ten "different" teens are traveling to Free Camp in Bridgton, Maine to learn about and develop the psychic and paranormal "gifts" that make them feel strange and at times alienated from other kids. A red K keeps appearing on the van's side, turning Free Camp into FreeK Camp. Are they FreeKs--and can that be a positive thing? They'll find out in the series opener, FreeK Camp, when half of the ten make it safely to camp and the other half are abducted by a psychopath. In the second book of the series, FreeK Show, they'll find themselves even more severely tested as they connect the dots on several homicides that are stumping the cops. (Info on the boxed set below)

---
---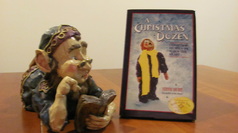 Now you can enjoy the spirit of Christmas any time!
Check out A Christmas Dozen: Christmas Stories to Warm the Heart, twelve of Steve's favorites from his Storyteller of the Heart Series.



---
---
---
MEET THE AUTHOR

* On this site

* At craft fairs

* At public readings

* On his Facebook page

Freeks

*

On his blog

(menu above)

* Through school visits

* Via Skype interviews

* At writers conferences and certain conventions (cons)

Most book buyers and fans know Steve from the numerous book signings he does at arts & crafts shows around New England in the summer and fall. He's been at it for 13 years now and has just retired from his fulltime profession to concentrate on writing. In February 2013 he and his wife Jolyn moved to The Villages, Florida, taking with them their EZ-Up tent and tables so they can meet new readers around the Florida craft show circuit. He's now starting the third in the FreeKs series.
A great gift! Autographed. The boxed four-book pack of Steve's Bram-Stoker-Award-winning Stories to Chill the Heart series (Odd Lot, Even Odder, Oddest Yet, and Wicked Odd) for ages 9 to 99. Ordering information below.
---
---
New! Gift-boxed autographed sets

The Stories to Chill the Heart series or the FreeKs series, each boxed set $29.95. Call Steve for more information 352.391.8293 or send a check and $5 shipping per boxed set to: Steve Burt, 17101 SE 94th Berrien Court, The Villages, FL 32162 (Florida residents add 7% sales tax before shipping cost)
---