The FreeKs series, psychic teen detectives

FreeK Camp & FreeK Show
Ten teens travel to Free Camp in Maine to discover and develop their unique gifts. A red K on the side of the van keeps turning Free Camp into FreeK Camp. Are they freaks (as defined by others) or can they call themselves FreeKs and make that a positive thing? The teens find out in the series debut, FreeK Camp, when five of the ten make it safely to camp and the other five disappear. In alternating chapters, the two groups must get to know each other in a hurry and develop their gifts, share their gifts for the good of the group, and do some good detective work. The the lives of one group depend on it. Winner of 12 international awards including 2 Mom's Choice golds, a Moonbeam Children's Book Award silver, and the London, Paris, NY, New England, San Francisco, and Hollywood Book Festival Awards.

In FreeK Show, the teens return the following year for a fresh try at a week of summer camp, only to find themselves way ahead of the cops in connecting the dots in three seemingly unrelated homicides in three different states. Winner of 8 international awards including a Mom's Choice gold, the Halloween Book Festival Award for Best Teen Fiction, and the NY, Paris, and London Book Festival Awards.

FreeK Week in Florida, the third in the series, involves Florida settings including Cassadaga: the spiritual medium capital of the world (where Mayberry meets the Twilight Zone), Gibsonton: the oddest town in America (where retired carnival and freak show people settle), Ocala: horse capital of the world, and The Villages: Florida's friendliest hometown. It is due out late July 2014.

$16.95 each, $29.95 for boxed 2-pack. 3-pack price will be posted once the third book is published. Add $5 shipping per book or pack. FL residents 7% sales tax. (Kindle ebooks on Amazon.)
---
---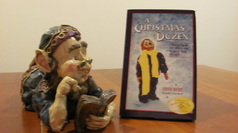 Enjoy the spirit of Christmas any time with the Christmas Story Pastor's award-winning bestseller for ages 9 to 99!
A Christmas Dozen: from the Christmas Story Pastor contains twelve of Steve's best-known stories from radio and television.
New England Book Festival Award, Best Spiritual silver; Writer's Digest Self-Published Book Award; Foreword Book Award. Stories featured in Chicken Soup for the Soul and Family Circle Magazine. The stories are part of the read-aloud program, "An Hour with The Christmas Story Pastor," that Steve has been doing for local churches for 20 years. $14.95 paperback, $17.95 hardcover. Add $5 shipping. 20% off and free shipping on 10 or more Christmas books. (Also as Amazon Kindle ebooks.)*Churches can also purchase these at 50% per case to use them as fundraisers for mission. Here is a link to hear Steve's interview and a Christmas story read aloud from the book.
http://www.ustream.tv/recorded/41664856
---
---
---
MEET THE AUTHOR

* On this site

* At craft fairs

* At public readings

* On his Facebook page:

Freeks series

*

On his blog

(menu above)

* Through school visits

* Via Skype interviews

* At writers conferences and certain conventions (cons)

Most fans know Steve from 13 years of signings at summer and fall arts & crafts shows around New England and 2 years at central Florida shows. Others recognize him from his touring as "The Christmas Story Pastor," where he has presented hundreds of hour-long holiday programs, or as "The Sinister Minister" after Connecticut Magazine featured him in a 2009 article.

Now Dr. Burt is retired from a 33-year ministry career and writes full-time. Since 2013 he and his wife Jolyn, a retired Vermont middle-school teacher and editor extraordinaire, have lived in The Villages, Florida. In December Rev. Dr. Burt was profiled by his denomination, the United Church of Christ, after donating 3,180 of his Christmas paperbacks to the United Way's "Pajamas and Books Comfort Program" for underprivileged, homeless, and in-transition children in central Florida. He still travels for Christmas programs, school visits, and book signings. Together, Steve and Jolyn are hammering out the third book in the FreeKs psychic teens series, FreeK Out in Florida, for summer 2014 release.
The Stories to Chill the Heart series is 4 story collections. Autographed, gift-boxed set of 4 story collections gives readers 39 ghost stories and weird tales reminiscent of The Twilight Zone. Series includes Odd Lot (Benjamin Franklin Award for mystery/suspense), Even Odder (Bram Stoker Award Nominee), Oddest Yet (Bram Stoker Award Winner), and Wicked Odd (Ippy Award Finalist). Ages 12-99. $29.95 plus $5 shipping. Florida residents add 7%. (Amazon for Kindle ebooks.)
---
---
Gift-boxed sets!

Get your gift-boxed Stories to Chill the Heart series four-pack or the FreeKs series two-pack for $29.95 plus $5 shipping per boxed set. (FreeKs 3-pack price as soon as FreeK Week in Florida is published.) Call Steve for credit card orders or information 352.391.8293 or send a check ("Steve Burt") to: 17101 SE 94th Berrien Court, The Villages, FL 32162 (Florida residents add 7% sales tax).
---